Alpha Male
Alpha Male from Stacker2 is a powerful pre-workout that will also boost your testosterone levels.
---
Genuine Product of Stacker
---
Product Description
Alpha Male from Stacker2 is a revolutionary nutritional supplement that combines the powerful effect of a pre-workout with a selection of natural extracts which make a positive contribution to your testosterone level.
Achieve Your Goals!
Alpha Male will improve your performance via three mechanisms :
Nitrogen retention : combining high doses of citrulline and arginine gives you a wonderful effect. The amino acid arginine is known as an N.O. booster and can be found in almost any pre-workout product.
Testo boost : by combining four effective ingredients (tribulus, maca, d-aspartic acid and fenugreek), you create an effective cocktail that contributes to your feeling of manhood and fertility.
Stimulants : caffeine is still one of the most effective available stimulants in sports nutrition that makes you feel more alert and energized.
Benefits:
Improved performance
Testo booster
Highly dosed in citrulline and arginine
Fast neurotransmitters stimulation
How To Use It?
For optimum effect, Alpha Male from Stacker2 can be consumed 15 minutes before the workout. The recommended dose is 15 gr to be diluted in 200 to 250 ml of water.
Product Composition
L-Citruline Malate, Beta Alanine, L-Arginine Alpha-Ketoglutarate, D-Aspartic Acid, Maca extract, Citric Acid, Aroma, Magnesium 300 mg (as Magnesium Oxide), Caffeine 300 mg, Tribulus Terrestris, Beta Carotene (Color), Sucralose (Sweetener), Fenugreek extract, Zinc 20 mg (as Zinc Bisglucinate), Siberian Ginseng, Silica Dioxide (Anti-Caking Agent).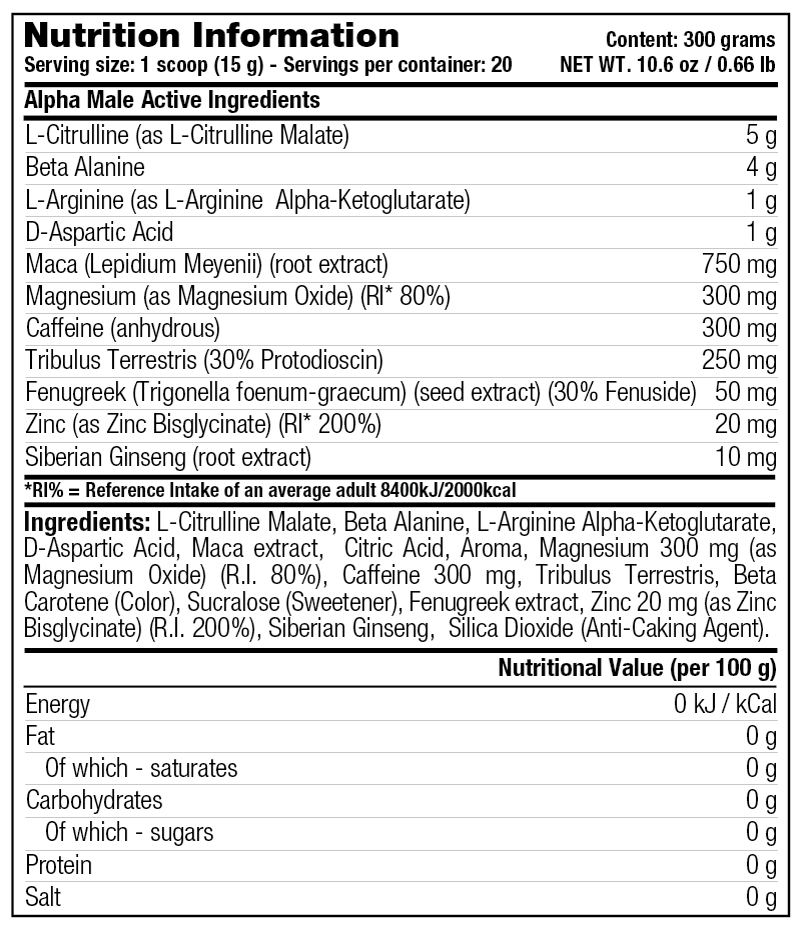 Flavour

Lime

or

Fruit Punch

or

Tropical Fruit

Brand

Stacker

Size

300 gr