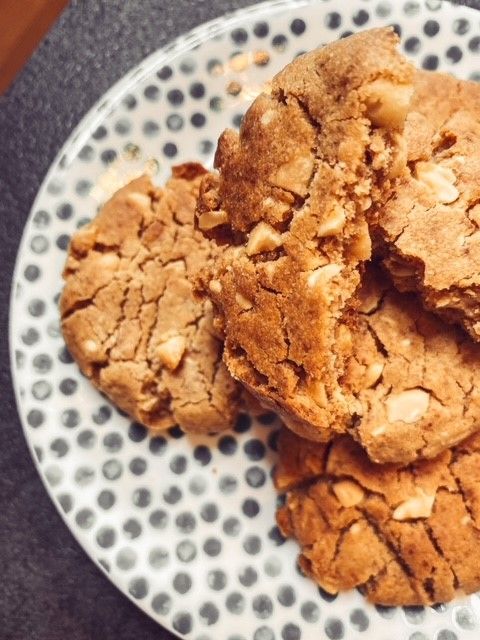 Ingredients

-50 g Peanut Butter
-50 g coconut oil 
-60 g coconut sugar 
-1 tsp of vanilla flavouring (flavor drop)
-1 tsp lemon juice or vinegar
-70 g rice flour (vanilla flavor)
-1 scoop whey
-1/4 teaspoon bicarbonate 
-50 g peanuts 
Preparation


-Preheat the oven to 180°C.
-In a bowl, mix together the coconut oil and peanut butter.
-Add the coconut sugar, vanilla flavouring and lemon and mix well.
-In another bowl, mix the rice flour and baking soda, then add to the first bowl and mix.
-Crush the peanuts and add them to your dough: the cookie dough is ready.
-Divide the dough into 8 (for medium cookies). Make 8 balls and place them on a baking sheet covered with baking paper, spacing them well apart and pressing them down with the palm of your hand to flatten them.
-Bake for 8 to 12 minutes (depending on whether you prefer them soft or a little firmer), or until the edges are very lightly browned.
-Let cool completely and enjoy!
 
Nutritional Value
Calories : 1561
195 kcal per cookies vs.
476 kcal for a regular cookie
Carbohydrates 144 g (18 g per cookie)
Protein 34 g (4 g per cookie)
Fat 101 g (12.5 g per cookie)