Should I skip my Breakfast ?
Nowadays, the norm is to not eat breakfast, or to eat a sloppy breakfast...One out of three people, go to work on an empty stomach, either because of a bad habit or simply because of a lack of time !
We are going to detail why eating first thing in the morning is important but also some ideas for simple, quick and delicious breakfasts.
Breakfast is indeed the most important first meal of the day, because it allows you to start the day after the night's fasting. Eating well in the morning will allow the body to distribute the day's caloric intake differently, notably by reducing the famous snacking.
In this regard, an American study dating from 2017 has precisely demonstrated that the body mass index (BMI) of breakfast enthusiasts is lower than that of the general population (-2.9%). Other studies have also shown that neglecting breakfast tends to weaken the cardiovascular system, which would increase the stiffness of the arteries (atherosclerosis) but also raise the risk of heart attack by 27%. 
This meal would therefore be essential for health, one of the pillars of longevity. In addition to providing energy throughout the morning, it does not generate any excess weight.
A balanced breakfast is also very important for people suffering from diabetes. This meal can help avoid hypoglycemia
I'm not hungry in the morning !
If you are not hungry, however, it is essential to bring hydration to your body. This can be by drinking a hot drink (coffee, tea, infusion) and a fruit.
A shaker can also be made by mixing one or more fruits, a scoop of protein powder, another scoop of oatmeal (to be adapted according to your needs) and vegetable milk.
Sometimes the body gets used to this morning intake and then you will be surprised to feel more appetite when you get up.
Don't hesitate to take a small snack with you that you can take a little later, it can be a fruit with a protein shake and some almonds.
However, if you had a big dinner the night before, it is normal not to be hungry the next day. You can then listen to your body and have a light breakfast.
I'll lose weight by skipping my breakfast !

Absolutely not !
And above all, any restriction is experienced as an aggression for the body which will increase its fat mass because during a fasting period the body stores fat. This is a completely natural reaction, the body putting itself in a survival situation.
Skipping breakfast will encourage snacking and weight gain. And when you miss a meal, your body will tend to "catch up" on the next one. Lunch may be heavier, making digestion more difficult and leading to various bloating, heartburn, headaches ...
Also, skipping breakfast leads to fatigue, which could be detrimental to your workouts but also to your overall health. The lack of sugar - and therefore energy - can make you perform less well, both physically and mentally.
Choose a regular diet with caloric intake corresponding to the day's expenditure.
What's a perfect Breakfast ?
There is no perfect breakfast, except the one that suits you. If you like to eat salty food in the morning, no problem! If you are used to eating a slice of white bread with a spread that is too sweet, choose wholemeal bread with a low-sugar spread.
Also think about the fibers that will facilitate the start of the transit (apples, red fruits, oats...).
Of course, you can vary your breakfasts; we think that a balanced diet is synonymous with boredom, but not at all!
We will give you some ideas for recipes that can be adapted to your needs, objectives and lifestyle !
CHECK OUT WHAT'S NEW
BREAKFAST

 PRODUCTS
BREAKFAST IDEAS by Sport Nutrition :
Easy & Fast do to !  :

Protein Smoothie
A fruit, protein powder, oat powder and plant milk shaker, convenient to take anywhere and quick to swallow, especially before or after a morning workout!
Feel free to add superfoods such as maca, chia seeds, hemp protein, cocoa powder, etc.... to your smoothie.
You can also opt for our ready-made protein shakes!
Fruity or gourmet flavors for express mornings!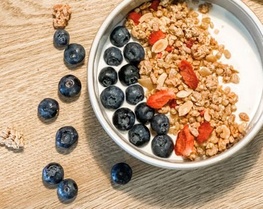 Porridge with muesli and Greek yogurt
Don't hesitate to consume yogurts rich in calcium and vitamin D!
Greek yogurt contains up to 10g of protein per 100g with brands like total 0% that offer a minimum of 4g of carbohydrates and 60 calories.
You can add protein muesli, fruit, peanut butter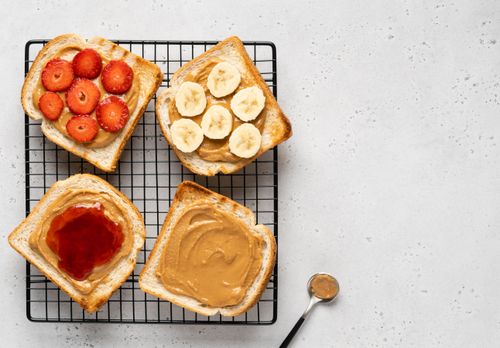 Healthy Toast !
Why deprive yourself of your favorite breakfast when you can make it lighter?
Don't hesitate to do it the American way, with peanut butter and diet jam!
If you are more classic and greedy, our light spreads will be perfect!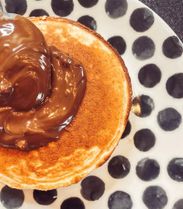 Pancake Ready Mix
A scoop or two in a shaker of water/vegetable milk, you mix, you cook with a coconut spray and you can eat the pancakes on the spot or take them to work!
With this preparation it is also possible to make pancakes or waffles...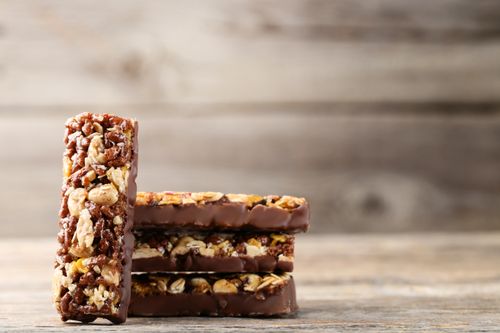 Homemade Granola
When you have a little free time, make a simple granola recipe, and you'll thank yourself later on when you have a busy morning! They can be made in any number of ways, you can add whatever you like and most importantly, they are diet! However, don't fall into the trap of buying granola bars from the big box stores, they are way too high in sugar (including the "diet" ones).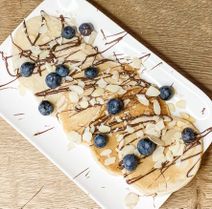 Homemade Pancake
You don't have to be a great cook to make tasty pancakes! Protein pancakes are very simple to prepare and require only a few ingredients. They can be prepared with banana or cream cheese or even sweet potato, which is very interesting for its glycemic index!
They can be accompanied by fresh fruit, peanut butter, chocolate squares, spreads and low-fat syrup....the choices are numerous for a maximum of deliciousness!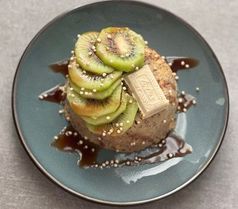 Bowlcake
We often use the same ingredients as the pancake to make a bowlcake, adding just a little more vegetable milk! Simply mix all the ingredients in a bowl (hence the name!) and put 3 minutes in the microwave. When you come out of the microwave, you can add a square of dark chocolate (70%) on top of the bowlcake for even more deliciousness! Don't hesitate to add a diet syrup or spread...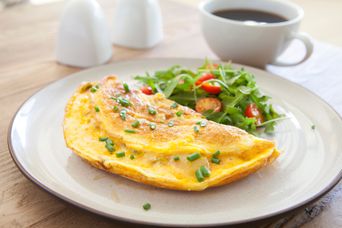 The sweet and sour omelette
The omelette is quite feasible! It is easy to prepare and can be cooked in a sweet version with fruit, cottage cheese, syrup and jam or in a savoury version with spices and other savoury foods if you prefer!

Conclusion :
After reading this article, you'll have no choice but to eat breakfast in the morning, whether you're a small or large eater! Choose healthy foods that you enjoy first and foremost and that will whet your appetite.
It's by having fun that you'll be able to reach your goals!   
---